Amidst a constantly evolving industry landscape, it remains important for all role players and service providers to stay relevant and to optimize their value proposition. SAPO Trust (SAPO), the official plant improvement organization of the South African deciduous fruit industry, is not immune to this process and therefore continues to move with the times in support of the pome and stone fruit producer.
During the 2020/21 season, SAPO has undergone a strategic development process to reignite its offering in pursuit of achieving world-class plant improvement services. A revised mandate is in the process to be agreed on amongst its five beneficiary organizations. Plant improvement has been reaffirmed as the main objective of SAPO to further elevate plant health, plant material quality and to ensure continued access to new plant genetics.
Notwithstanding SAPO's 46-year long experience in the field of plant improvement, SAPO is, for all practical purposes, in a phase of transition – customized service-level agreements are therefore envisaged with each of the beneficiary organizations as representative bodies of the SA producer. To further bolster SAPO's renewed plant improvement drive, new positions have been added to its business structure – a senior plant improvement manager has been appointed to lead the earmarked transition in this specialized field and a dedicated plant diseases specialist has been appointed to support the intended objectives.
SAPO's Variety Development and Intellectual Property (IP) Management service continues to reach new heights and the testing scope of its ISO 17025 accredited laboratory continues to evolve. Its Nursery Services unit, a key supplier of high-quality budwood and rootstocks to the pome-and stone fruit industries, is earmarked for a structural review following a decision.
to exit the commercial nursery tree business to ensure greater impetus on critical plant improvement functions. In addition, SAPO has revitalized its website platform and continues to improve stakeholder communications through its LinkedIn platform – please follow us to obtain first-hand information on plant improvement matters, SAPO assigned scionand rootstocks varieties, and more.
Governance
SAPO has been fortunate to have convened its full suite of board and sub-committee meetings as planned despite the Covid-19 challenges. A total of four board meetings, four audit committee meetings and two human resources committees were conducted during the 2020/21 period.
SAPO continued to ensure sound financial governance and prudent financial management practices. During the 2020/21 period, SAPO again received an unqualified (clean) audit by its external auditors, Exceed Chartered Accountants (SA). Despite not receiving any industry funding, SAPO managed to once again declare a dividend to its beneficiary organizations. A down-cycle is however projected on plant material volumes and income over the ensuing years.
SAPO's IP management practices, in particular the administration and collection of royalties as well as the authenticity of product information channelled to and from its contracted nurseries, have also been exposed to a separate external audit – again resulting in an unqualified audit. These audit outcomes are testimony to SAPO's well-established systems. This provides continued reassurance to stakeholders, being mindful of SAPO's wide footprint across the entire South African deciduous fruit industry, the vast amount of attractive fruit varieties, and an array of customized IP contracts in line with the desires of IP owners and the SA fruit industry.
Operational highlights
Plant material supply
The demand and supply of plant material again revealed the volatile nature of the industry. An increase in stone fruit demand was experienced, whilst pome fruit demand showed a slight downward trend compared to the previous year. The supply of stone fruit plant material to nurseries during autumn, winter and summer of 2020 increased by 7% compared to 2019. This was mainly driven by a 27% higher demand for plums compared to the previous year. The varieties which attracted the highest demand were African Delight, Ruby Sun, Fortune and Laetitia. There was also a 63% higher demand for nectarines, although from a lower base.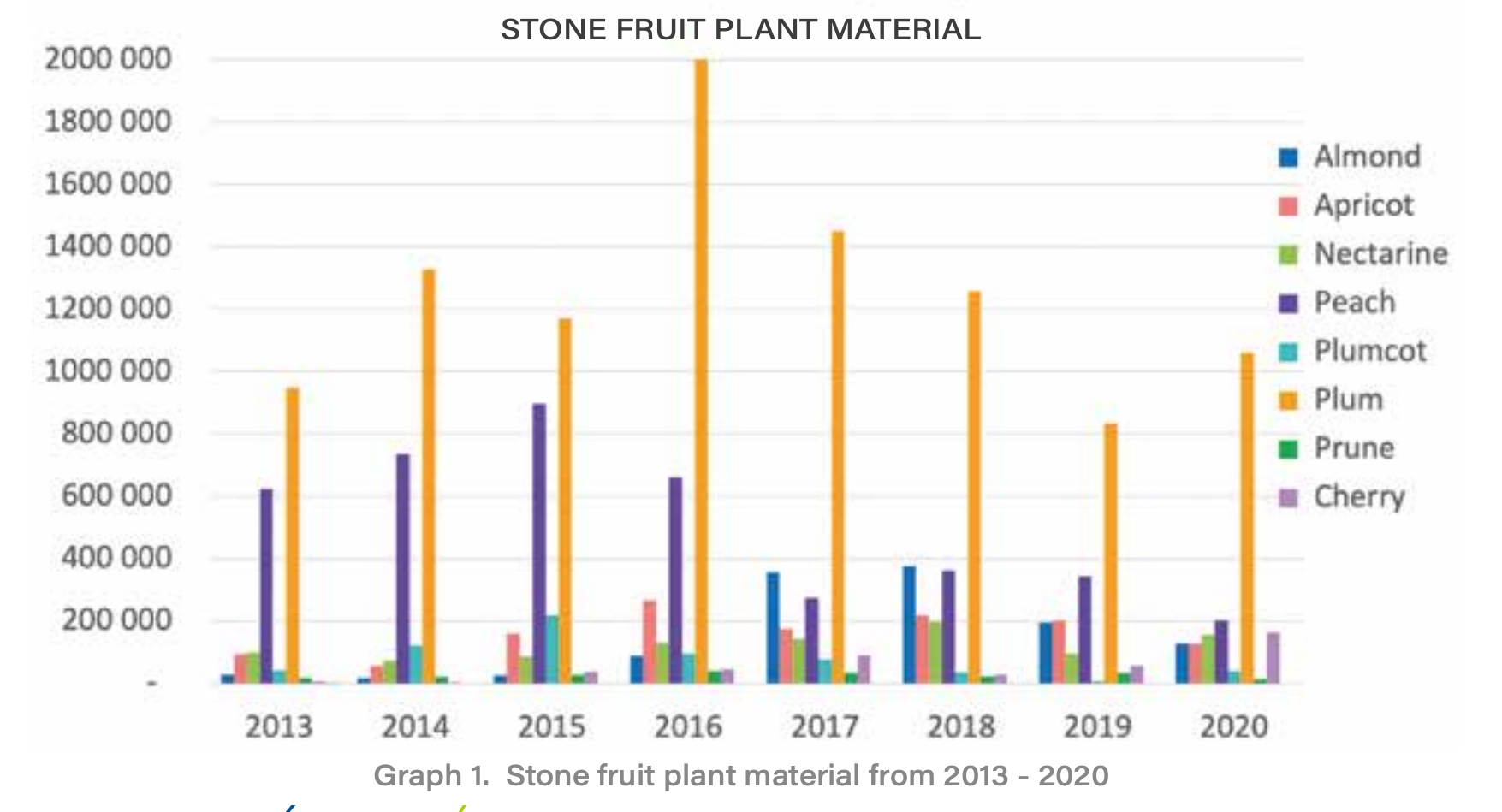 Increased demands for cherries (190%) and plumcots (515%) were also observed. The demand for stone fruit over the past eight years is depicted in Graph 1. The demand for pome fruit plant material decreased by 9% (apples decreasing by 6% and pears by 13% respectively) in comparison to the previous year. The highest demand was for Fuji Royal, followed by Big Bucks (Flash GalaTM) and Granny Smith. The most popular pear variety for 2020/21 was the new Rosemarie selection with better colour. Other pear varieties in demand were Celina and Forelle.
Variety development and intellectual property management
SAPO's Variety Development and IP Management service has made significant strides in improving on systems, communication and aiding industry partners and clients in various capacities. Our strength lies in our dedicated team that endeavours to provide high-value services to our IP clients. Strong relationships with the Quarantine Station and Department of Agriculture, Land Reform and Rural Development (DALRRD) have proven to be invaluable in many respects, especially during the COVID-19 pandemic when services were disrupted. On the variety development front, SAPO Trust is currently in the process of securing four new pear rootstocks and one new apple rootstock for testing and evaluation in South Africa. The testing and evaluation of new varieties is an on-going process. With a large amount of new genetics continuously flowing into the deciduous fruit space, evaluations are important. In light of this, a total of 48 pome fruit evaluations, 33 stone fruit evaluations and eight rootstock trials were undertaken. Furthermore, SAPO has received 33 new varieties from quarantine over the 2020/21 period and 10 new varieties were imported during 2021. This illustrates the efforts made by SAPO Trust to provide as many options as possible to meet the needs of the South African producers.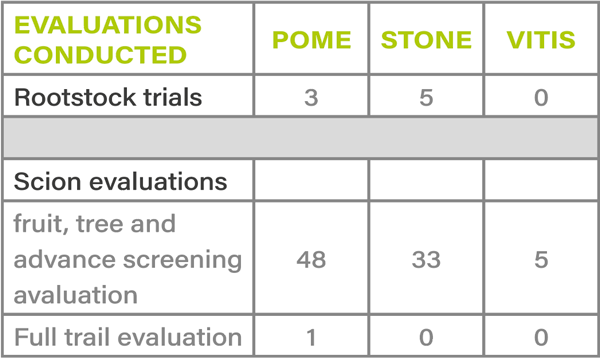 Pathology services
SAPO continued to strengthen its ISO 17025 accreditation status to ensure compliance with Good Laboratory Practices (GLP). An additional Technical Signatory has been endorsed by the South African National Accreditation Service (SANAS) and more tests are included in the accreditation scope. During the year under review, SAPO's pathology laboratory performed a total of 50 873 ELISA tests and 1 897 PCR tests. The number of tests is expected to increase significantly over the ensuing years to support the enhanced industry plant improvement drive.
Nursery services at a glance

The nursery produced a total of 66 254 commercial trees, 3 360 test and evaluation trees, 715 400 stone fruit rootstocks, 105 150 apple rootstocks and 117 750 pear rootstocks.

In addition, the nursery produced around 80% of the stone fruit industry's budwood in cooperation with SAPO contracted stone fruit nurseries. For pome fruit, 20% of the industry's budwood has been produced by the SAPO nursery
View the full Hortgro Annual 2021 Report.